Destinia
Tokyo Encounter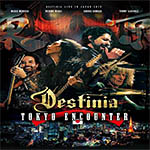 Tracks:

01. Metal Souls
02. Rain
03. Judgment Day
04. Promised Land
05. Still Burning
06. Drum solo
07. Requiem for a Scream
08. Take Me Home
09. Raise Your Fist
10. Metamorphosis
11. Be A Hero
12. Cross the Line
13. The End of Love
14. Ready for Rock

Bonus CD:

01. The Boys Are Back in Town (Thin Lizzy Cover)
02. Please Don't Leave Me (John Sykes Cover)
03. Over the Mountain (Ozzy Osbourne cover)
04. Fool for Your Loving (Whitesnake Cover)

Line up:

Nozomu Wakai - Guitars
Ronnie Romero - Vocals
Marco Mendoza - Bass
Tommy Aldridge - Drums

Record Label / Year of Release:

Ward Records Japan 2021

Notes:

A one-night-only live performance by Destinia, led by Nozomu Wakai, a guitarist/producer who has been attracting attention from the world for his participation in the Alcatrazz album, will finally be released. The fateful line-up remains the same, with Ronnie Romero, Tommy Aldridge, and Marco Mendoza.

This historical encounter is definitely a must-see for all hard rock/heavy metal fans. Full drum solo by Tommy Aldridge will also be included. This special album includes the 4 cover songs played after the encore, such as "Please Don't Leave Me" and "Over The Mountain".

This will be available in various packages including Blu-ray or DVD plus CD and bonus CD and/or replica pass, T-shirt, mask, mask case, leather key chain and Nozomu Wakai message video.