The Ferrymen
A New Evil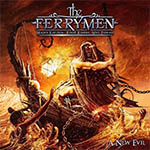 Tracks:

1. Don't Stand In My Way
2. Bring Me Home
3. A New Evil
4. The Night People Rise
5. Save Your Prayers
6. Heartbeat
7. Your Own Hero
8. No Matter How Hard We Fall
9. My Dearest Fear
10. You Against The World
11. All We Got

Line up:

Ronnie Romero - Vocals
Magnus Karlsson – Guitar, Bass, Keyboards
Mike Terrana – Drums

Record Label / Year of Release:

Frontiers 2019

Notes:

Guitarist Magnus Karlsson (Primal Fear, Magnus Karlsson's Free Fall) and vocalist Ronnie Romero (Lords Of Black, Rainbow) have joined forces, together with drummer Mike Terrana (Rage, Axel Rudi Pell, and more), in a project dubbed The Ferrymen and grounded in 2017.

The Ferrymen will release their second album, "A New Evil" on October 11, 2019 through Frontiers Music. First single, pre-orders, and more info coming soon....