The Ferrymen
A New Evil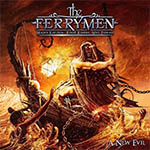 Tracks:

1. Don't Stand In My Way
2. Bring Me Home
3. A New Evil
4. The Night People Rise
5. Save Your Prayers
6. Heartbeat
7. Your Own Hero
8. No Matter How Hard We Fall
9. My Dearest Fear
10. You Against The World
11. All We Got

Line up:

Ronnie Romero - Vocals
Magnus Karlsson – Guitar, Bass, Keyboards
Mike Terrana – Drums

Record Label / Year of Release:

Frontiers 2019

Notes:

The Ferrymen released their self-titled debut album in June 2017, taking the fans of European Melodic Metal sound by surprise. Now the band returns with the follow-up, "A New Evil". With songwriting handled by ace Swedish guitarist Magnus Karlsson (Primal Fear, Magnus Karlsson's Free Fall), awesome vocals by the Chilean-born singer Ronnie Romero (Rainbow, CoreLeoni), and drummer Mike Terrana (Rage, Axel Rudi Pell, and more) brining the thunder, there is no stopping this trio. The Ferrymen take the classic heavy metal sound and combine that style with some heavier and updated songwriting textures and arrangements.

Musically, you can expect very heavy melodic metal fusing the songwriting and epic structures of the great Allen/Lande records (of which Magnus Karlsson was the main architect of the first three widely praised releases) with the Ronnie James Dio-esque vocal approach of Romero. Let's not forget that Romero was hand-picked by Deep Purple and Rainbow's legendary guitarist Richie Blackmore to be the lead vocalist for Rainbow's recent reunion shows, so the Dio comparison is more than accurate.

With stunning artwork courtesy of Stan W. Decker and an outstanding mix courtesy of Jacob Hansen (Volbeat, Pretty Maids etc.), The Ferrymen's new album, "A New Evil" will take the metal world by storm in 2019!