Chaos Magic
Furyborn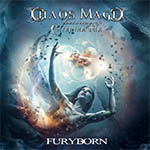 Tracks:

1. You Will Breathe Again
2. Furyborn
3. Like Never Before
4. Beware of Silent Waters
5. Falling Again
6. Bravely Beautiful
7. Throw Me to the Wolves
8. I'd Give It All
9. Path of the Brave
10. My Affliction
11. I'm Your Cancer

Line up:

Caterina Nix - Lead Vocals
Hermaunt Folatre - Bass
Mario Torres – Guitar
Nasson - Guitar, Vocals, Piano, Bass
Carlos Hernandez – Drums

guests:

Tom Englund - Vocals
Maestro Mistheria - Piano, Synth
Nasson - Vocals
Ailyn Gimenez - Vocals
Ronnie Romero - Vocals (track 9)
Ramon Poveda - Cello

Record Label / Year of Release:

Frontiers 2019

Notes:

Chaos Magic is centered around Chilean vocalist Caterina Nix who, for this sophomore release from the band, worked in close collaboration with fellow Chilean producer, singer, and musician Nasson. The album was mixed to perfection by Danish studio master Jacob Hansen and will be released via Frontiers Music SRL next June 14th.

Together, they have created an absolute gem of an album, with outstanding metal tracks which will take the listener by storm. Caterina also put together an interesting cast of singers for some duets on the album: Tom Englund (Evergrey) on the title track, Ailyn (ex-Sirenia) on 'Bravely Beautiful', and Ronnie Romero (Rainbow and CoreLeoni singer, ex-Lords of Black) on 'Path of the Brave'.