CoreLeoni
CoreLeoni II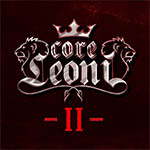 Tracks:

01 Waltz No. 2
02 Standing In The Light
03 Love For Money
04 Open Fire
05 Angel
06 And Then Goodbye (Bonus Digi/Vinyl)
07 She Goes Down
08 No Tomorrow
09 I'm Your Travellin' Man
10 Cheat And Hide (Bonus Digi/Vinyl)
11 Make My Day
12 Mountain Mama
13 Queen Of Hearts
14 Don't Get Me Wrong
15 Boom Boom (Bonus Digi/Vinyl)
16 Il Padrino

Line up:

Ronnie Romero - vocals
Leo Leoni - guitar
Hena Habegger - drums
Jgor Gianola - guitar
Mila Merker - bass

Record Label / Year of Release:

AFM Records 2019

Notes:

CoreLeoni's second album, "CoreLeoni II" will be released on September 27, 2019

CoreLeoni has a new record label AFM Records and is the release of the CoreLeoni II album. On September 27th, 2019 the album will be released by AFM Records. There will be different versions available. Normal CD and CD Limited Digipack + 2 LP Gatefold available in clear and red vinyl. The album will include 2 brand new songs (Queen of Hearts & Don't get me wrong) + a cover version of John Lee Hooker's "Boom Boom Boom"