Destinia
Metal Souls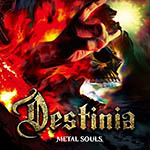 Tracks:

1. Metal Souls
2. Be A Hero
3. Rain
4. Raise Your Fist
5. Metamorphosis
6. The End Of Love
7. Judgement Day
8. Cross The Line
9. Take Me Home
10. Promised Land

Line up:

Nozomu Wakai - Guitars
Ronnie Romero - Vocals
Marco Mendoza - Bass
Tommy Aldridge - Drums

Record Label / Year of Release:

Word Records Japan 2018

Notes:

Nozomu Wakai's Destinia is a super project in the true sense. Tonyy Aldridge (Drums - White Snake, Ozzy Osbourne, Gary Moore, etc.), Marco Mendoza (Bass - Whitesnake, Blue Murder), Ronnie Romero (Vocals - Ritchie Blackmore's Rainbow, Lords of Black). A modern and classical sound that combines melodic and heaviness advocates "orthodox hard/rock/heavy metal" to the 21st century and "classical modern" style advocates, and lights the "metal soules" of the world fans as a modern and classical sound.

He led his project Nozomu Wakai's Destinia in Japan and released the album "Requiem for a Scream" (2014), "Anecdote of the Queens" (2015). Through the guitar/composer/sound director to the work of a number of artists and animation, the name of Nozomu Wakai expanded rapidly to the Japanese scene.