Lords of Black
Icons Of The New Days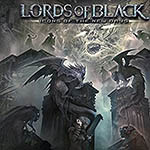 Tracks:

Disc: 1

1. World Gone Mad
2. Icons of the New Days
3. Not in a Place Like This
4. When a Hero Takes a Fall
5. Forevermore
6. The Way I'll Remember
7. Fallin'
8. King's Reborn
9. Long Way to Go
10. The Edge of Darkness
11. Wait No Prayers for the Dying
12. All I Have Left
13. Edge of the Blade

Disc: 2

1. Innuendo
2. Only
3. Tears of the Dragon
4. Edge of the Blade
5. The Maker and the Storm
6. When Nothing Was Wrong

Line up:

Ronnie Romero - vocals
Tony Hernando - guitar
Andy C. - drums
Dani Criado - bass

Record Label / Year of Release:

Frontiers Music 2018

Notes:

Lords of Black is the band fronted by in demand vocalist Ronnie Romero, renowned guitarist Tony Hernando, monster drummer Andy C and new bassist Dani Criado. Then the news of Ronnie Romero joining the new incarnation of Ritchie Blackmore's Rainbow was revealed. This brought the band to the attention of the international media and music fans. In particular, the words of Ritchie Blackmore describing Romero's voice as a "cross between Ronnie James Dio and Freddie Mercury" piqued hard rock and heavy metal journalists and fans' interest.

The band signed on with Frontiers for the release of their second album, "II", an album which blew the minds of fans of modern melodic metal. Co-produced, mixed and mastered by Roland Grapow (Masterplan, ex-Helloween), "II" was an album chock full of superbly crafted songs that gave further credence to the band's immense talent. In the time since, Ronnie made his live debut with Rainbow to much critical acclaim, partnered up with Magnus Karlsson (Primal Fear) on the new band The Ferrymen, and most recently, was enlisted by legendary Gotthard guitarist Leo Leoni to front his new project, CoreLeoni. Now that even more of the world is aware of Ronnie's incredible talents, the time couldn't be more perfect for Lords Of Black to unveil their newest metal masterpiece.