Jose Rubio's Nova Era
Nova Era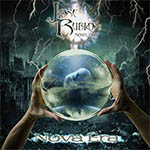 Tracks:

1. Pains of Hell
2. My Own God
3. Nova Era
4. Lights and Shadows
5. Time
6. Necromancer
7. In My Dreams
8. On the Road
9. To the End
10. Galicia (In My Heart)

Line up:

Ronnie Romero - vocals
José Rubio - Guitars (lead)
Emilio Bande - Bass
Brais Afonso - Drums
Juanjo Pérez "Foggy" - Guitars
Jose Manuel Valugo - Keyboards

Record Label / Year of Release:

Leyenda Records 2012

Notes:

Ronnie Romero was born and rised in Chile in a Protestants family of musicians, and started singing at the age of 7 in a gospel choir. After being introducted to Rock music he soon realises he wants to be a Rock-Metal Singer, developing a strong and powerful singing style melting together the best of his favourite singers and influences such Ian Gillan, David Coverdale, Steve Perry and his beloved Ronnie James Dio.

Ronnie moves to Spain in 2011 and soon developes his music career along renowned musicians and collaborating with many other bands of different styles. In spain he joined Jose Rubio's Nova Era and sings on the album "Nova Era" which weas released in 2012. He is also to be heard on the single "After All" (2013). Ronnie left the band in September 2013.