Deep Purple
Bombay Calling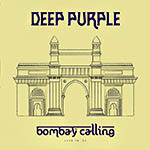 Tracks:

CD 1:

1. Maybe I'm a Leo
2. Black Night
3. The Battle Rages On
4. Woman from Tokyo
5. Purpendicular Waltz
6. When a Blind Man Cries
7. Perfect Strangers
8. Pictures of Home

CD 2:

1. Child in Time
2. Anya
3. Space Truckin'
4. Steve Morse's Guitar Solo
5. Lazy
6. Speed King
7. Highway Star
8. Smoke On the Water

Line up:

Steve Morse – Guitar
Ian Gillan – Vocals
Jon Lord – Organ, Keyboards
Roger Glover – Bass
Ian Paice – Drums

Record Label / Year of Release:

EarMusic 2022

Notes:

Deep Purple's 'Bombay Calling - Live in '95' is remastered and released in August 2022. This live take had only been available on bootleg-quality DVD so far. 'Bombay Calling' was recorded in early 1995 and is one of the first shows Deep Purple played with Steve Morse showcasing his virtuosic guitar skills and some of the new material would later make it onto the widely celebrated studio album 'Purpendicular'.

Astonishingly, the long thought lost master tapes for this unforgettable show in Mumbai were found lying around in an old cardboard box in November 1999. A true gem for any fan, they offer rare insight into the extraordinary talents of this phenomenal rock band. The Indian press gave the concert rave reviews, with many claiming it to be the best rock show ever staged in India.

Released as 2CD + DVD and 4LP + DVD.
DVD has an extra track (Fireball).