Deep Purple
Live in Wollongong 2001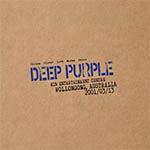 Tracks:

Disc one

1. Woman from Tokyo
2. Ted the Mechanic
3. Mary Long
4. Lazy
5. No One Came
6. Black Night
7. Sometimes I Feel Like Screaming
8. Fools
9. Perfect Strangers

Disc two

10. Hey Cisco
11. When a Blind Man Cries
12. Smoke on the Water
13. Speed King (medley with "Good Times", featuring Jimmy Barnes on vocals)
14. Hush
15. Highway Star

Line up:

Steve Morse – Guitar
Ian Gillan – Vocals
Jon Lord – Organ, Keyboards
Roger Glover – Bass
Ian Paice – Drums

Guest:

Jimmy Barnes – Vocals

Record Label:

Ear Music 2001

Notes:

Live in Wollongong 2001 was released in 2001 as part of the 12CD Soundboard Series. This concert was recorded March 13, 2001 at the Wollongong Entertainment Centre and gets now a release on the Ear Music label as a 2CD set and a 3LP set on blue vinyl.