Deep Purple
Live in London 2002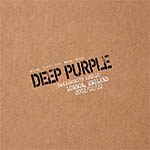 Tracks:

CD 1

01. Woman from Tokyo
02. Ted the mechanic
03. Mary Long
04. Lazy
05. No one came
06. The aviator
07. The well-dressed guitar
08. Up the wall
09. Black night
10. Fools
11. Jon Lordís key solo
12. Perfect strangers
13. Steve Morseís riff parade
14. Smoke on the water
15. Speed king
16. Hush

Line up:

Ian Gillan - vocals
Steve Morse - guitar
Roger Glover - bass
Ian Paice - drums
Jon Lord - keyboards

Record Label / Year of Release:

Ear Music 2021

Notes:

Another release in the Soundboard Series is expected on August 13, 2021 ó Live in London 2002. This show, from February 22, 2002, at the Hammersmith Apollo in London, is infamous for a couple of reasons.

First, it was the last show that Jon Lord played with the band from start to finish. He submitted his letter of resignation the same night. He did appear with the band afterwards as a special guest, most notably on the autumn 2002 UK dates that were rescheduled from earlier in the year.

Second, the show was essentially an instrumental one. There was a virus making rounds through the band in that tour. That night it was Gillanís turn to succumb to it and for all practical purposes he lost his voice. There were attempts to sing here and there, but not terribly successful.