Deep Purple
Live in Verona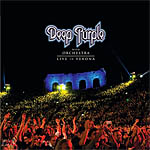 Tracks:

CD 1:

01 Deep Purple Overture
02 Highway Star
03 Hard Lovin' Man
04 Maybe I'm a Leo
05 Strange Kind of Woman
06 Rapture of the Deep
07 Woman From Tokyo
08 Contact Lost
09 Steve Morse Solo
10 When a Blind Man Cries
11 The Well Dressed Guitar

CD 2:

01 Knocking At Your Back Door
02 Lazy
03 No One Came
04 Don Airey Solo
05 Perfect Strangers
06 Space Truckin'
07 Smoke on the Water
08 Hush
09 Roger Glover Solo
10 Black Night

Line up:

Ian Gillan - vocals
Steve Morse - guitar
Roger Glover - bass
Ian Paice - drums
Don Airey - keyboards

Record Label / Year of Release:

Ward Records 2014

Notes:

Live in Verona is a live release by Deep Purple's mk VIII lineup credited as Deep Purple with Orchestra, and performed alongside the Neue Philharmonie Frankfurt conducted by Stephen Bentley-Klein.

This concert was recorded at the the Arena di Verona, a Roman amphitheater originally built in 30 AD, on 18 July 2011. Besides a Blu-ray/DVD release, the concert has also been released in Japan on 2CD. Film of the concert was released on October 21, 2014 by German label Eagle Rock Entertainment. The audio album was released on October 8, 2014 by Ward Records.

Re-released on October 28, 2022 by Ear Music.