The Upstarts
The Upstarts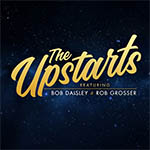 Tracks:

1. Sunburst
2. Seabird Flavour
3. Molten Rock
4. Key of Sea
5. Bhaji at the Beach
6. End of Summer Blues
7. Sinister Squid
8. Ghost of a Siren
9. Life of Brine
10. Sea Girl
11. Lucid Dreams
12. Sierra Tango Delta
13. The Sound of Feelings

Line up:

Rob Grosser - Drums, Guitar
Bob Daisley - Bass

Record Label / Year of Release:

SSK Records 2021

Notes:

THE BOB & ROB SHOW

Australia first got to know about Rob Grosser in 1979 when he joined a couple of fellow Adelaide musicians, guitarist Greg Webster, drummer turned keyboards player Geoff Stapleton and singer Danny Johnson in a synth-pop band called The Aliens. Signing to Mushroom, The Aliens released a debut single, Confrontation, followed by an album, Translator, and scored the support on the UK band Squeeze's Australian tour. By 1981, however, it was all over and Stapleton would next turn up in GANGgajang. As for Grosser, he eventually teamed up with guitarist Tim Gaze, which is how he came to meet bass player Bob Daisley, who is the other half of a new recording project the pair have just released – The Upstarts.

About this Daisley character...

When you hear the eponymous instrumental surf-guitar debut from The Upstarts, you might be surprised to learn that the bass runs that ring it to life come from the bass player who was there at the birth of Ozzy Osbourne's Blizzard of Oz! But then, Daisley has also played in Richie Blackmore's Rainbow, Gary Moore's band, Uriah Heep and his own heavy rock combo, Widowmaker, which featured former Mott The Hoople guitarist Luther Grosvenor aka Ariel Bender. But that's a whole other story. The Upstarts

A motorbike accident saw Grosser hurt his arm badly enough to see him off the road for a while, which saw him take up the guitar to keep him musically active – he'd set up a recording studio, Disgracelands, where he'd been recording and producing records for quite a few years – and he was soon coming up with melodies. So he played a few to Daisley, who thought they were worth developing and by the end of 2020, they'd recorded three album's worth of material. Through his US contacts Daisley scored an international release for the first selection of those recordings with SSK Records, and hey presto, "Meet The Upstarts".

Bob Daisley said...

After I'd completed the tribute to Gary Moore album, 'Moore Blues For Gary', at Rob Grosser's studio, he and I experimented with some instrumental songs. We began working on some basic ideas that Rob had and they began to take shape in a sort of '60s Surf Music way, many have a trippy, spacey Pink Floyd vibe. The more we worked the more enjoyable it became. I've named our project 'The Upstarts', it's not really a band as such, it's just Rob and me, with a guest performance on one track. Personally, I love this album, everyone that I've played it to does as well. Rob and I hope that you do too!