Alcatrazz
The Official Bootleg Boxset Vol 2 1983-1984



Tracks:

CD 1 – HUNTINGTON BEACH, CALIFORNIA 21ST DECEMBER 1983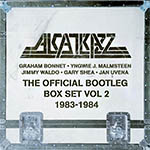 1 Incubus
2 Too Young To Die…Too Drunk To Live
3 Hiroshima Mon Amour
4 Desert Song
5 Kree Nakoorie
6 Island In The Sun
7 Big Foot
8 Evil Eye
9 Guitar Solo
10 Since You Been Gone
11 Jet To Jet
12 All Night Long
13 Lost In Hollywood

CD 2 – OSAKA, JAPAN: 24TH JANUARY 1984

1 Night Games Intro 2 Incubus
3 Too Young To Die…To Drunk To Live
4 Hiroshima Mon Amour
5 Desert Song
6 Night Games
7 Big Foot
8 Island In The Sun
9 Kree Nakoorie
10 Guitar Solo
11 Since You Been Gone
12 Suffer Me
13 Jet To Jet
14 Evil Eye
15 Lost In Hollywood
16 All Night Long

CD 3 – ALBUQUERQUE, NEW MEXICO 19TH FEBRUARY 1984

1 Too Young To Die… Too Drunk To Live
2 Hiroshima Mon Amour
3 Big Foot
4 Island In The Sun
5 Kree Nakoorie
6 Since You Been Gone
7 Suffer Me
8 Desert Song
9 Jet To Jet
10 Evil Eye
11 All Night Long
12 Lost In Hollywood
13 Something Else

CD 4 – AGORA BALLROOM, CLEVELAND, OHIO 23RD MAY 1984

1 Intro
2 Too Young To Die…Too Drunk To Live
3 Jet To Jet
4 Night Games
5 Island In The Sun
6 Desert Song
7 Kree Nakoorie
8 Guitar Solo: Coming Bach
9 Band Introduction
10 Since You Been Gone
11 Black Star Intro-Suffer Me
12 Hiroshima Mon Amour
13 Lost In Hollywood

CD 5 – JACKSON, NEW JERSEY 8TH JUNE 1984

1 Too Drunk To Live…Too Young To Die
2 Island In The Sun
3 Hiroshima Mon Amour
4 Night Games
5 Kree Nakoorie
6 Guitar Solo
7 Since You Been Gone

Bonus Tracks

8 Interview 1983 (B-Side Of 'Island In The Sun' Promo 12inch)
9 PSA – Against Drunk Driving
10 Instrumental 1 (Take 1 Jimmy And Danny Demo)
11 Instrumental 1 (Take 2 Jimmy And Danny Demo)
12 Instrumental 2

Line up:

Graham Bonnet - Vocals
Yngwie Malmsteen - Guitar
Gary Shea - Bass
Jan Uvena - Drums
Jimmy Waldo - Keyboards

Record Label / Year of Release:

Cherry Red Records 2022

Notes:

Second collection of rare and unreleased live recordings by Alcatrazz.

Kicking off at the Golden Bear in Huntingdon Beach, California, in December 1983 on CD 1 which features a healthy selection of songs from Alcatrazz's debut plus MSG's 'Desert Song' and Rainbow's 'Lost In Hollywood'.

As well as making a healthy dent on the US chart, with videos aimed squarely at MTV, nowhere was Alcatrazz's impact felt as strongly as Japan, where the band became instant stars. A Japanese tour was booked for early 1984, from which the Osaka date on 24th January 1984 was recorded at the Festival Hall, included here on CD 2. As well as Graham Bonnet's solo hit 'Night Games', the set featured Rainbow's 'Since You Been Gone' and 'All Night Long'.

CD 3 features a set recorded at Graham Central Station in Albuquerque in New Mexico. Highlights are 'Too Young To Die… Too Drunk To Live', plus the singles 'Hiroshima Mon Amour' and 'Island In The Sun' from 'No Parole From Rock 'N' Roll'.

The Agora Ballroom in Cleveland, Ohio, had long been an important mid-west venue for touring rock bands in the 1970s and 1980s, so the band were guaranteed a warm welcome for their show there on 23rd May 1984, reproduced here on CD 4. The set includes Malmsteen's incendiary guitar showcase 'Coming Bach'.

This collection concludes with CD 5's gig on 8th June 1984 at Six Flags Great Adventure in Jackson, New Jersey. As an extra bonus, CD5 finishes with an interview originally released as a single promo B-Side, a Public Service Announcement from Graham, warning against drunk driving, plus three instrumental demo tracks.

While every effort has been made to produce the best possible audio, limitations in material taken from various, non-standard sources means that the quality may not be up to the standard usually expected. All tracks have been included for their historical importance, and to present a complete Alcatrazz anthology live on stage.