Taz Taylor Band
Nocturnal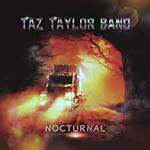 Tracks:

1. Wasting My Time
2. Live Fast
3. Raw Nerve
4. George's Song
5. Realize
6. Out Of Time
7. The Accidental Tourist
8. Secrets
9. Ready Or Not
10. Be Mine
11. Blue
12. Nocturnal

Line up:

Taz Taylor - Guitar
Val Trainor - Drums
Barney Firks - Bass
David Reece - Vocals
Mark Boals - Vocals
Chandler Mogel - Vocals
Doogie White - Vocals (track 3)
Graham Bonnet - Vocals (track 7)

Record Label / Year of Release:

Global Rock Records 2022

Notes:

Guitarist Taz Taylor, already familiar to many in the hard rock world via his previous albums "Welcome To America", "Straight Up" and 2017's "Pressure & Time" is back with his latest album "Nocturnal" Featuring some of rock's finest vocalists: Doogie White, Graham Bonnet, David Reece, Mark Boals & previous TTB collaborator Chandler Mogel.

Taz Taylor offers the following: During the Summer of 2020 I took to the studio in San Diego with long time band mates Val Trainor and Barney Firks to record a new album. Global Rock A&R Giles Lavery can be credited for brokering a new liaison between myself and Graham Bonnet... There had been little communication between us since 2008 after we did the "Welcome To America" album and tours, but once we were back in touch, a new song "The Accidental Tourist" was in the can! Giles also made introductions between myself and David Reece who contributes vocals to three songs on the album.

Chandler Mogel (previously heard on TTB album Pressure And Time) makes an appearance on the song "Blue" and I reached out to long time acquaintances Doogie White and Mark Boals who are also featured prominently on the album, Mark turning in phenomenal performances on 3 songs and Doogie showing a slightly different side to his huge vocal talent on the song "Raw Nerve", which we have chosen as the first single and video.

"Nocturnal" released July 15th is a throwback in time. An album of Classic Hard Rock, performed by 'lifer' musicians who are in it because they have nothing they would rather be doing! On this album, Guitarist Taz Taylor, Bassist Barney Firks and Drummer Val Trainor team up with some of Hard Rock's greatest vocalists. Together they have managed to combine the swagger and attitude of 80's Sunset Strip with the musical virtuosity of the shred guitar boom which also peaked in that decade... whilst simultaneously raising a huge musical middle finger to the decade that followed.

Says Taz, "It's only 2022 if you look at a calendar and tune into today's crap mainstream radio! so grab a copy of "Nocturnal" and remind yourself what Rock and Roll is supposed to sound like!" Global Rock will also be re-issuing Taz Taylor Bands back catalog later in 2022!