Graham Bonnet Band
The Book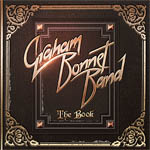 Tracks:

Disc 1:

1. Into The Night
2. Welcome To My Home
3. Earth's Child (I Am Your Son)
4. Rider
5. Dead Man Walking
6. Strangest Day
7. The Dance
8. Where Were You?
9. The Book
10. Everybody Wants To Go There
11. California Air

Disc 2:

1. Eyes Of The World
2. All Night Long
3. Lost In Hollywood
4. Since You Been Gone
5. Night Games
6. S.O.S.
7. Assault Attack
8. Dancer
9. Desert Song
10. Island In The Sun
11. Hiroshima Mon Amour
12. God Blessed Video
13. Will You Be Home Tonight
14. Witchwood
15. Stand In Line
16. Here Comes The Night (Down Without A Fight)

Line up:

Graham Bonnet - Vocals
Conrado Pesinato - Guitars
Beth-Ami Heavenstone - Bass

Record Label / Year of Release:

Frontiers Records 2016

Notes:

The new studio album by the Graham Bonnet Band will be released on November 4th, 2016 by Frontiers Records. The album offers 11 new songs. It also includes a bonus disc featuring re-recorded versions of all the best songs Graham Bonnet has sung in his career.