Rainbow
Monsters of Rock - Live at Donington 1980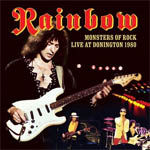 Tracks:

01. Intro / Eyes Of The World
02. Since You Been Gone
03. Stargazer
04. Catch The Rainbow
05. Lost In Hollywood / Guitar Solo
06. Difficult To Cure / Keyboard Solo
07. Drum Solo / Lost In Hollywood (reprise)
08. Lazy
09. All Night Long
10. Blues
11. Will You Love Me Tomorrow
12. Long Live Rock 'N' Roll

Line up:

Ritchie Blackmore – Guitar
Graham Bonnet – Vocals
Don Airey – Keyboards
Roger Glover – Bass
Cozy Powell – Drums

Record Label / Year of Release:

Eagle Vision 2016

Notes:

On April 22, Eagle Rock Entertainment release "Monsters Of Rock - Live At Donington 1980" by Rainbow on DVD + CD format. The DVD contains all the surviving footage from the show and this release marks the first time that the audio from the show has been available as a full-length standalone CD. "Monsters Of Rock - Live At Donington 1980" includes "Since You Been Gone", "All Night Long", "Stargazer", "Long Live Rock 'N' Roll", "Catch The Rainbow", "Eyes Of The World" and more.

On Saturday, August 16, 1980, Rainbow took to the stage to headline the first rock festival to be held at Castle Donington. It was the culmination of the band's tour in support of the hugely successful "Down To Earth" album, released in 1979, and would prove to be the last live show featuring this particular lineup of the band: Ritchie Blackmore (guitar), Don Airey (keyboards), Graham Bonnet (vocals), Roger Glover (bass) and Cozy Powell (drums). The set featured tracks from the then-new album alongside classics from earlier in their career. There are virtuoso solo spots for Blackmore, Airey and Powell which serve to highlight the sheer musical prowess in the band.

"Monsters Of Rock - Live At Donington 1980" captures an incendiary performance from the truly legendary Rainbow in every sense of the word. The show climaxes with Ritchie Blackmore destroying his guitar and thrusting it into an amp which promptly bursts into flames before fireworks burst overhead at the conclusion of an explosive show.

Unfortunately 'Love's No Friend' and 'Man on the Silver Mountain' are missing from the CD. On the European version also the end of the show (Kill The King / Guitar Crash / Long Rive rock 'n' roll (Reprise)) is missing. The Japanese version by Ward Records comes as a 2 CD set and has the end of the show, although here also 'Love's No Friend'/'MOTSM' are missing. The release in Japan is on April 15th, 2016 and has also a deluxe package with DVD and a T-shirt.