Graham Bonnet
Back Row In The Stalls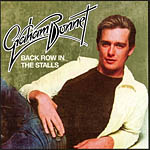 Tracks:

1. Here Comes the Rain
2. What's This 'Ere Then
3. Private Eye
4. Ghost Writer in My Eye
5. Saturday's Over
6. Back Row in the Stalls
7. She May Be Not Much to Look At
8. Ade's Song
9. Mamma Mine
10. Relaxae
11. Don't Drink the Water
12. Dreams (Out in the Forest)
13. We're Free

Bonus Tracks:

14. Whisper in the Night (Single A-Side 1972)
15. Rare Specimen (Single B-Side 1972)
16. Trying to Say Goodbye (Single A-Side 1973)
17. Castles in the Air (Single B-Side 1973)
18. Dog Song (Single A-Side 1973)
19. Express Yourself (Single B-Side 1973)

Line up:

Graham Bonnet - Vocals
Adrienne Posta - Vocals (track 18-19)

Record Label / Year of Release:

Hear No Evil (Cherry Red Records) 2016

Notes:

Despite top ten success, Graham's undeniable talents languished in relative obscurity until he appeared as frontman with the fictitious band Billy Beethoven in the 1975 cinematic romp, Three Of A Kind, co-starring his then wife, Adrienne Posta.

This largely forgotten piece of cinematic history did lead to Graham recording what was meant to be his debut solo outing for DJM Records, Back Row In The Stalls. Although this album was thought long lost, thankfully a cassette taken from the master tape was found, and transferred for release.

Although the more pop orientated material may be a surprise to fans of the man that brought us 'All Night Long' and 'Since You Been Gone', it certainly paved the way for his actual debut solo LP, 1977's Graham Bonnet, 1978's No Bad Habits and 1981's Line-Up, an album that produced the top ten hit, Night Games.

Including new liner notes from Classic Rock's Malcolm Dome based on new interviews with Graham, what makes this rare collection an extra treat is the inclusion of six bonus tracks taken from the A and B-Sides of the singles Whisper In The Night' b/w Rare Specimen' from 1972, 'Trying To Say Goodbye' b/w 'Castles In The Air' from 1973 and a very rare 1973 single from Graham's then wife, the actress Adrienne Posta, 'Dog Song' b/w 'Express Yourself' from 1973, both featuring Graham.