Graham Bonnet
Private i - The Archives Vol. One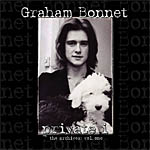 Tracks:

1. Here Comes The Rain
2. What's This 'Ere Then
3. Private Eye
4. Let Me Off This Time / Saturday's Gone
5. Back-Row In The Stalls
6. She May Not Be Much To Look At
7. Ade's Song
8. Mamma Mine
9. Relaxae (Jazz Me)
10. Don't Drink The Water
11. Dreams (Out In The Forest)
12. We're Free

Line up:

Graham Bonnet - vocals

Record Label / Year of Release:

Digital Media Release 2015

Notes:

Graham Bonnet to release previously unheard album from 1975 as first part of newly launched 'Graham Bonnet Archive' series.

Before there was Rainbow, before there were the solo hits "Warm Ride", "It's All Over Now" and "Will You Still Love Me Tomorrow" Graham had written and recorded his first post-Marbles solo album. Sadly, this album never saw the light of day way back in 1975 for a number of reasons... However 40 years later that is about to change. Newly remastered from the only still existing tape source, 'Private i' contains 12 diverse tracks and shows a side of Graham's voice that many may have never heard.

Graham recalls, "Those sessions were great fun, and it was exciting to be recording for the first time my own compositions, we had some great people playing on the record, I recall Rick Wakeman was on one track, along with Phillip Goodhand-Tait, oh and my wife at the time (British actress) Adrienne Posta... I played alot of the instruments, as did my producer Kaplin Kaye"

'Private i' is available digitally from January 22nd, 2015 via itunes and all other major digital media outlets.