Axel Rudi Pell
Magic Moments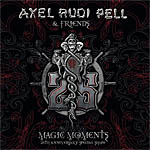 Tracks:

CD 1:

Call Her Princess - Steeler
Night After Night - Steeler
Rockin´ The City - Steeler
Undercover Animal - Steeler
Nasty Reputation - Rob Rock, Joerg Michael
Warrior - Jeff Scott Soto, Joerg Michael
Fool Fool - Jeff Scott Soto, Joerg Michael

CD 2:

(Current ARP Band)

Burning Chains
Strong As A Rock
Long Way To Go
Hey Hey My My
Mystica
Into The Storm
Too Late / Eternal Prisoner / Too Late
The Masquerade Ball / Casbah
Rock The Nation

CD 3:

Drum Battle - Vinnie Appice, Bobby Rondinelli
Black Night - Ronnie Atkins
Sympathy - John Lawton
Tush - John Lawton
Mistreated - Doogie White, Tony Carey, Johnny Gioeli
Since You Been Gone - Graham Bonnet, Michael Voss, Doogie White
Long Live Rock´N´Roll – Doogie White, Graham Bonnet, Tony Carey
Smoke On The Water – all guests

Line-Up:

Axel Rudi Pell - Guitars
Johnny Gioeli - Vocals
Ferdy Doernberg - Keyboards
Volker Krawczak - Bass
Bobby Rondinelli – Drums

Friends:

Steeler: Peter Burtz (v), Tom Eder (g), Roland Hag (b), Jan Yiridal (dr)

Rob Rock (v), Jeff Scott Soto (v), Joerg Michael (dr), Vinny Appice (dr), Ronnie Atkins (v), John Lawton (v), Tony Carey (k, v), Doogie White (v), Graham Bonnet (v), Michael Voss (v)

Record Label / Year of Release:

SPV/Steamhammer 2015

Notes:

Axel Rudi Pell celebrated his 25th anniversary as a solo artist by performing a very special show at the Bang Your Head Festival in Balingen, Germany on July 11, 2014. The show with many guests including ex-Rainbow members Bobby Rondinelli, Tony Carey, Doogie White and Graham Bonnet gets a release now on CD, DVD and Blue Ray titled 'Magic Moments'.

The complete show will be released as Digipak 3 CD, Digipak 3 DVD (NTSC, code free), Blu-ray and digital download - out in Scandinavia on April 22nd, in Germany on April 24th, in Europe on April 27th and in the USA on April 28th through SPV/Steamhammer.