Don Airey
Keyed Up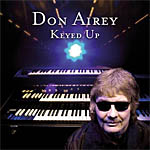 Tracks:

01. 3 In The Morning
02. Beat The Retreat
03. Blue Rondo A La Turk
04. Solomonís Song
05. Claire D'Loon
06. Flight Of Inspiration
07. Inside
08. The Godbox
09. Difficult To Cure 2013
10. Mini Suite *
a) Lament/Jig
b) Restless Spirit
c) What Went Wrong
11. Adagio *
12. Grace

Line up:

Don Airey - keyboards
Carl Sentance - vocals

Darrin Mooney - drums
Laurence Cottle - bass
Rob Harris - guitar

Guest Musicians:

Gary Moore - guitar (track 10 & 11)
Graham Bonnet - vocals (track 9)
Simon MacBride - guitar
Alex Meadows - bass
Tim Goodyer - drums

Record Label / Year of Release:

Music Theories Recordings 2014

Notes:

Legendary keyboardist Don Airey has just released his new solo album, "Keyed Up", via Music Theories Recordings.

Don has played with pretty much everyone worth playing with, and is currently working and touring with Deep Purple. This new solo CD draws from a range of influences from his past. And while he has a solid band, there are a few notable guests appearing on the album, including one of the last pieces of work by the late Gary Moore.

"Keyed Up" mixes jazz, rock and blues, and some instrumental passages allow some rightly deserved self-indulgence from Don; whether intricate playing or use of effects, it's all enjoyable.

One of the highlights of the album is a remake of RAINBOW's "Difficult To Cure". While it lacks Ritchie Blackmore's finesse, the guitar sounds fantastic and Don's keyboards are bright. The programmed orchestral break is a good touch too. "Mini Suite" sees some good guitar interplay, before switching to piano. There are touches of Gary Moore here, and more on "Adagio", where his guitar work stands out.

The band on this record was Don Airey on keyboards, Darrin Mooney on drums, Laurence Cottle on bass, Rob Harris on guitar and Carl Sentance on vocals. Guest performers include the aforementioned Gary Moore, Graham Bonnet, Simon MacBride, Alex Meadows and Tim Goodyer. The engineer was Ewan Davies.

Don said: "I loved having the responsibility of pulling together the sessions at Chapel Studios.

"The album was basically laid down live, no overdubs, no redoing; we don't do filesharing.

"There are wonderful musicians on this record. I call them 'the band that never was,' as it's a true pleasure to work together, but opportunities are so limited.

"Being in a band like DEEP PURPLE, especially with the success we've had [last] year, should be enough; but I need another outlet.

"Some of the music is straight-ahead rock, a tribute to where I've come from, but there's variety ó 'Blue Rondo A La Turk' was the piece I played on my first radio performance aged 14. There are plenty of weird sounds too, most from the Hammond; a lot of it wasnít planned, I just got carried away with the moment!"