Stardust Reverie
Ancient Rites of the Moon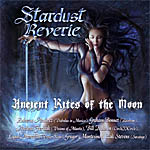 Tracks:

1. Conqueror of Both
2. My Child
3. Daughter of the Sun
4. Universal Horrors
5. Mighty Roar
6. Ozymandias
7. Calico Jack
8. Three Books from a Shelf
9. Song for Catina
10. 10539 Overture
11. Ozymandias (Spanish Version)

Line up:

Graham Bonnet - vocals (track 1)
Melissa Ferlaak - vocals
Zuberoa Aznárez - vocals
Zak Stevens - vocals
Bill Hudson - vocals

Record Label / Year of Release:

Foque 2014

Notes:

Stardust Reverie is a project by Spanish musician and composer Victor Banner. The first Stardust Reverie album is called 'Ancient Rites of the Moon' featuring Zak Stevens, Graham Bonnet, Lynn Meredith, Melissa Ferlaak and many more.