Tomorrow's Outlook
34613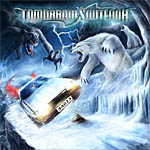 Tracks:

1. As Darkness Falls (Intro)
2. Gate To Freedom
3. Glass Mountain
4. A Song For You
5. Doubt
6. The Ethereal Dream
7. 34613 (Instr.)
8. White Lightning
9. Liquid Scream
10. Kill Again
11. March Of The Demons
12. Red Rum (Lizzy Borden Cover)
13. The Ethereal Dream (Reprise)

Lineup:

Andreas Stenseth - Bass
Mike Haid - Drums
Charlie Zeleny - Drums
Sami Saarinen - Guitars
Michael Harris - Guitars
Řystein Kvile Hanssen - Guitars
Mike Gorham - Vocals
Norman Kiersnowski - Vocals
Scott Oliva - Vocals
Graham Bonnet - Vocals (track 12)
Michael Kiske - Vocals

Record Label / Year of Release:

Battlegod Productions 2012

Notes:

"34613" was recorded on a song-by-song basis (early 2007 through late 2010). It was recorded by different engineers and in different locations around the world (Norway, USA, Finland & Germany). Mixing was performed during this 3,5 year period and mastering in Dec. 2010. All the mixing and mastering were handled by Colin Davis at Imperial Mastering (Pacheco, California). Produced by Trond Nicolaisen, Andreas Stenseth and Tomorrow's Outlook.

Red Rum was recorded late 2007/early 2008 for an upcoming "Baptized In Blood" tribute to Lizzy Borden. We were asked to contribute with a track by metal maniac Lon Patello, a longtime friend of SKI and also founder of the true/power metal label Metallic Archangel Records. We quickly accepted the offer from Lon, and to create a buzz around the release we got in contact with legendary hard rock singer Graham Bonnet (Rainbow/Alcatrazz/MSG). It was a pleasure to announce the guest appearance by one of our all-time favorite vocalists. "Baptized In Blood" has been in the works for many years, but it will hopefully see the light of day sometime soon. The tribute compilation will probably still be released through Lon's label Metallic Archangel Records. Other bands that are expected to appear on the CD include: Deadly Blessing, Faith Factor, Timelord, Solemnity, Cypher Seer, Silence, Emissary, Ligeia, Stronghold, October 31 and Hounds Of Hell.