Rainbow
Down To Earth - Deluxe Edition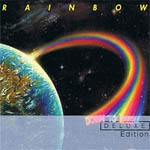 Tracks:

Disc 1:

1. All Night Long
2. Eyes of the World
3. No Time to Lose
4. Makin' Love
5. Since You Been Gone
6. Love's No Friend
7. Danger Zone
8. Lost in Hollywood
9. Bad Girl (1979 B-side)
10. Weiss Heim" (1980 B-side)

Disc 2:

1. All Night Long (Instrumental Outtake)
2. Eyes Of The World (Instrumental Outtake)
3. Spark Don't Mean A Fire
4. Makin' Love (Instrumental Outtake)
5. Since You Been Gone (Instrumental Outtake)
6. Ain't A Lot Of Love In The Heart Of Me
7. Danger Zone (Instrumental Outtake)
8. Lost In Hollywood (Instrumental Outtake)
9. Bad Girl (Instrumental Outtake)
10. Ain't A Lot Of Love In The Heart Of Me (Alternative Outtake)
11. Eyes Of The World (Instrumental Outtake Take 2)
12. All Night Long (Cozy Powell Mix)

Line up:

Graham Bonnet – Vocals
Ritchie Blackmore – Guitar
Don Airey – Keyboards
Roger Glover – Bass
Cozy Powell – Drums

Record Label / Year of Release:

Universal 2011

Notes:

Down To Earth is the fourth studio album released by Rainbow, released in 1979 (see 1979 in music). Most of the album had been already written and recorded by the time Graham Bonnet was recruited. Also recruited were Ritchie Blackmore's ex-Deep Purple bandmate Roger Glover and keyboardist Don Airey, who would later join Deep Purple. Lyrics were by Glover, music by Blackmore, Airey and Cozy Powell.

This was to be the only Rainbow album on which Bonnet sang, although he was still part of the band when writing for Difficult to Cure began.

"Bad Girl", an outtake from the album sessions, was used as the B-side to the "Since You Been Gone" single.

Similarly, "Weiss Heim", an instrumental recorded in Copenhagen in January 1980, was the B-side to "All Night Long".

Also recorded for the proposed next single but unreleased due to Bonnet's departure, was "Will You Love Me Tomorrow". Bonnet had previously recorded this song for his first, eponymously-titled, solo album in 1977. Rainbow's version was recorded in the studio in May 1980, during rehearsals for the Japanese leg of the Down to Earth tour. It was subsequently played live throughout that tour.

In the UK there was a limited edition clear vinyl lp release.

A remastered CD reissue was released in May 1999, with packaging duplicating the original vinyl. In 2010 a Deluxe Edition of the album is planned, featuring bonus disc with previously unreleased songs and instrumental versions of basic tracks.

After several reschedulings, the album was finally released in as a 2-CD Deluxe Remastered Edition in 2011.