Alcatrazz
Live '83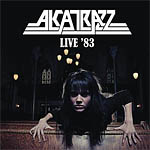 Tracks:

1. Too Young To Die, Too Drunk To Live
2. General Hospital
3. Kree Nakoorie
4. Island In the Sun
5. Evil Eye
6. Since You Been Gone
7. Hiroshima Mon Amour
8. Suffer Me
9. Desert Song
10. Jet To Jet
11. All Night Long

Line up:

Graham Bonnet - Vocals
Yngwie Malmsteen - Guitar
Gary Shea - Bass
Jan Uvena - Drums
Jimmy Waldo - Keyboards

Guest Musician:

George Lynch (on track 11)

Record Label / Year of Release:

Cleopatra 2010

Notes:

Vintage live tracks recorded in 1983 by the band that introduced guitar hero Yngwie Malmsteen to the world and featuring vocalist Graham Bonnet of Rainbow, Alcatrazz! The performance draws mostly from the band's debut album "No Parole For Rock 'N Roll" including the highlights "Island In The Sun", "Hiroshima Mon Amour" and "Jet To Jet" PLUS a bonus studio version of the Rainbow classic "All Night Long" featuring George Lynch.