Alcatrazz
Disturbing The Peace Tour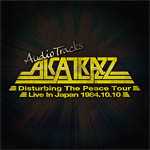 Tracks:

1. Breaking The Heart Of The City
2. Jet To Jet
3. Skyfire
4. Sons And Lovers
5. Hiroshima Mon Amour
6. God Blessed Video
7. Will You Be Home Tonight
8. Knee Nakoorie
9. Since You've Been Gone
10. Painted Lover
11. Suffer Me
12. Jack The Ripper
13. Too Young To Die, Too Drunk To Live
14. Kojo No Tsuki
15. Night Games
16. All Night Long

Line up:

Graham Bonnet - vocals
Steve Vai - guitar
Gary Shea - bass
Jimmy Waldo - keyboards
Jan Uvena - drums

Record Label / Year of Release:

Arena Music/Verita Note (Japan) 2010

Notes:

Recorded during The Disturbing The Peace Tour, October 10th, 1984.
Soundtrack taken from video release in Japan.