Alcatrazz
Live in Tokyo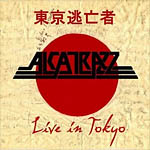 Tracks:

1. All Night Long
2. Big Foot
3. Desert Song
4. Hiroshima Mon Amor
5. Island In The Sun
6. Koujou No Tsuki
7. Evil Eye
8. Kree Nakoorie
9. Something Else
10. Night Games
11. To Young To Die, Too Drunk To Live
12. Suffer Me
13. Since You've Been Gone
14. Lost In Hollywood

Line up:

Graham Bonnet - Vocals
Yngwie Malmsteen - Guitar
Gary Shea - Bass
Jan Uvena - Drums
Jimmy Waldo - Keyboards

Record Label / Year of Release:

Stoneworks 2007

Notes:

In celebration of the 25th anniversary of the band, Stoneworks released two Alcatrazz live albums in 2007, 'AWOL in Hollywood' and 'Live in Tokyo' as well as our first album 'No Parole from Rock 'n' Roll' digitally remastered.

Recorded at the Country Club for Jim Ladd's KMET radio show, 'AWOL in Hollywood' was a sold-out show from our very first tour featuring Yngwie Malmsteen]. The Record Plant's mobile unit recorded it and mixed it at the Record Plant. 'Live in Tokyo' was recorded at Nakano-Sun Plaza also a sold-out show of some 8,000 screaming Alcatrazz fans.