Taz Taylor
Welcome To America!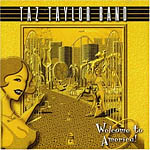 Tracks:

1. Fighter's Fist
2. Radio Luxembourg
3. Parisienne Walkways
4. Happy Hour
5. Haunted
6. Welcome to America
7. Wall of Sound
8. Silent Fall
9. The Reprise
10. Goodbye Mr. C.

Line up:

Tazz Taylor - Guitars
Graham Bonnet - Vocals
Bob Miller - Keyboards
Richard Livoni - Drums
Dirk Krause - Bass

Record Label / Year of Release:

Escape Music 2006

Notes:

In 2006 Bonnet contributed vocals to the Welcome to America album by Taz Taylor Band. The album was widely regarded as one of the best Melodic Rock albums of the year. The band toured the U.K in 2007 and Europe in 2008.