Michael Schenker Group
Tales of Rock'n'Roll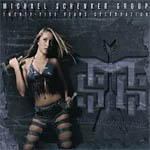 Tracks:

1. Ride
2. Setting Sun
3. Angel of Avalon
4. Dreams Inside
5. Dust to Dust
6. Voice of My Heart
7. Journey Man
8. Big Deal (False Alarms)
9. St. Ann
10. Shadow Lady
11. Love Trade
12. Human Child
13. Bitter Sweet
14. Blind Alley
15. Freedom
16. Life Vacation
17. Rock N Roll
18. Tell a Story
19. Life Goes On [Instrumental]

Line up:

Michael Schenker - Guitars
Wayne Findlay - Guitars, Keyboards
Jeff Martin - Drums
Pete Way - Bass
Jari Tiura - Vocals
Gary Barden - Vocals
Graham Bonnet - Vocals (on 17)
Robin McAuley - Vocals
Leif Sundin - Vocals
Kelly Keeling - Vocals
Chris Logan - Vocals

Record Label / Year of Release:

Armageddon Music 2006

Notes:

Tales Of Rock'n'Roll is a 25 Years Celebration highlights by Michael Schenker who's surrounded by a number of renowned colleagues. Every vocalist who has sung with MSG, namely Graham Bonnet, Gary Barden, Robin McAuley, Kelly Keeling, Leif Sundin, Chris Logan and Jari Tiura, recorded one new song each.