Impellitteri
System X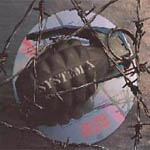 Tracks:

1. United We Stand
2. Perfect Crime
3. End Of The World
4. She's A Nightime Lover
5. Slow Kill
6. Why Do They Do That
7. Rock And Roll Heroes
8. Gotta Get Home
9. What Kind Of Sanity
10. Falling In Love With A Stranger

Line up:

Chris Impellitteri - Guitar
Graham Bonnet - Vocals
James Amelio Pulli - Bass
Edward Harris Roth - Keyboard
Glen Sobel - Drums

Record Label / Year of Release:

SPV 2002

Notes:

Graham Bonnet rejoined Impellitteri in 2000 for their System X album. The album was finished in 2001 but it took till 2002 before it got released. The reunion with Bonnet would be short-lived as they parted ways some time shortly thereafter.