Graham Bonnet
The Rock Singer's Anthology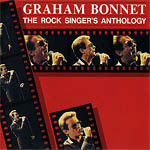 Tracks:

1. Only One Woman
2. The Walls Fell Down
3. To Love Somebody
4. It's All Over Now Baby Blue
5. Will You Still Love Me Tomorrow?
6. It Ain't Easy
7. Goodnight & Good Morning
8. Warm Ride
9. I'll Be Your Baby Tonight
10. Won't You Join Me
11. Is There a Way to Sing the Blues?
12.All Night Long
13. Since You've Been Gone
14. Night Games
15. Liar
16. Be My Baby

Line up:

Graham Bonnet - Vocals

Record Label / Year of Release:

Vertigo 1990

Notes:

Graham Bonnet had several minor chart successes in the 60s and 70s but his breakthrough came when he joined Rainbow as lead singer in 1979. After huge success came the parting of the ways and Graham set about recording his full blown hard rock magnus opus.

Compilation Album with 16 tracks mainly from "Graham Bonnet" & "No Bad Habits" plus some tracks from "Down To Earth" & "Line Up".