Forcefield
Let The Wild Run Free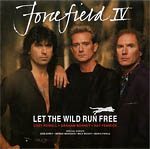 Tracks:

1. Let The Wild Run Free
2. Can't Get Enough Of Your Love
3. Money Talks
4. I Will Not Go Quietly
5. Women On Wings
6. Ball Of Confusion
7. Living By Numbers
8. Wind Cries Mary
9. In A Perfect World

Line up:

Graham Bonnet - Vocals
Cozy Powell - Drums
Bernie Marsden - Guitars
Mickey Moody - Guitars
Ray Fenwick - Guitars, Keyboards
Mario Parga - Guitars
Don Airey - Keyboards
Tim Hinkley - Keyboards
Chris Cozens - Keyboards
Terry Pack - Bass

Record Label / Year of Release:

President Records 1991

Notes:

Anglo-Dutch group Forcefield was established in 1986 by the British singer and guitarist Ray Fenwick. In the seventies, Fenwick played in several well-known compositions (such as Fancy and Ian Gillan Band), but the real popularity he never had the chance to learn, although he even managed to produce solo album, Keep America Beautiful Get A Haircut in 1971.

In the eighties Fenwick mostly engaged session work. In the studio, where he worked on the album, Ray met a keyboardist and vocalist Peter Prescott. Fenwick suggested Peter try to run a studio project, and soon on the market appeared the debut single of Forcefield with their cover songs of Deep Purple's Smoke On The Water. In June 1987 Fenwick invited to the studio a few notable friends and to record their first album Forcefield.

In addition to songs of Deep Purple, the team recorded a few cover versions, including Set Me Free (Kinks), Sunshine Of Your Love (Cream), Whole Lotta Love (Led Zeppelin), White Room (Cream), You Really Got Me (Kinks), Keep On Running (Spencer Davis Group) etc. In addition to the mentioned duo's work on the disc were featured drummer Cozy Powell, bassist Mo Foste, bassist Neil Murray, keyboardist Nick Magnus and keyboardist Chris Cozens.

Fenwick's idea was to record a disc for the soul, and in 1988 he began to work on a second album The Talisman. Prescot didn't participate this time. Tony Martin, who has sung in Black Sabbath, was invited as vocalist. Powell, Murray and Cozens stayed in the band. Guitarist Ian Akkerman and bassist Laurence Cottle joined them.

The third album To Oz And Back Fenwick was featured by vocalist Graham Bonnet. In 1990 Forcefield started to record the last vocal-instrumental album, Let The Wild Run Free. The line up, including Bonnet, remained unchanged, except guitarist Bernie Marsden and keyboardist Don Airey were added. The fourth album had two cover versions - The Wind Cries Mary (Jimi Hendrix) and Can't Get Enough (Bad Company).

In 1992, Fenwick decided complete the saga of Forcefield with instrumental album. Those who played on the album were Fenwick, Ackerman, Marsden, Airy, Powell and guitarist Mario Parga.