Impellitteri
Stand In Line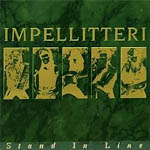 Tracks:

1. Stand in Line
2. Since You've Been Gone
3. Secret Lover
4. Somewhere Over the Rainbow
5. Tonight I Fly
6. White and Perfect
7. Leviathan
8. Goodnight and Goodbye
9. Playing with Fire

Line up:

Chris Impellitteri – electric guitar
Graham Bonnet – vocals
Phil Wolfe – keyboard
Pat Torpey – drums
Chuck Wright – bass guitar

Record Label / Year of Release:

Relativity Records 1988

Notes:

Stand in Line is the debut studio album by heavy metal band Impellitteri, released in 1988 through Relativity Records.