Pretty Maids
Future World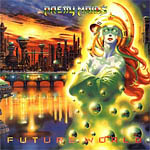 Tracks:

1. Future World
2. We Came To Rock
3. Love Games
4. Yellow Rain
5. LoudīNīProud
6. Rodeo
7. Needles In the Dark
8. Eye Of The Storm
9. Long Way To Go

Line up:

Ronnie Atkins - Vocals
Ken Hammer - Guitar
Phil Moorhead - Drums
Allan Delong - Bass
Alan Owen - Keyboards
Graham Bonnet - Background Vocals

Record Label / Year of Release:

CBS 1987

Notes:

Future World is the second album of the Danish hard rock/heavy metal band Pretty Maids produced by Eddie Kramer and released in 1987.