Alcatrazz
Dangerous Games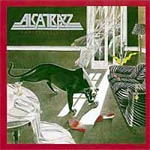 Tracks:

1. It's My Life
2. Undercover
3. That Ain't Nothin'
4. No Imagination
5, Ohayo Tokyo
6. Dangerous Games
7. Blue Boar
8. Only One Woman
9. The Witchwood
10. Double Man
11. Night Of The Shooting Star

Line up:

Graham Bonnet - Vocals
Danny Johnson - Guitar
Gary Shea - Bass
Jan Uvena - Drums
Jimmy Waldo - Keyboards

Record Label / Year of Release:

EMI 1986

Notes:

Dangerous Games was the third studio album released by Graham Bonnet's Alcatrazz. It has a Japanese influence and has strong and memorable melodies. Danny Johnson replaced Steve Vai on guitar. Recorded in American Recording Studios, Woodland Hills, California.


Re-released in 2011 by The Store For Music with live bonus tracks:

12. Too Young to Die, Too Drunk to Live
13. General Hospital
14. Kree Nakoorie
15. Island in the Sun
16. Since You've Been Gone
17. Hiroshima Mon Amour
18. Suffer Me
19. Desert Song
20. Jet To Jet

Recorded live at The Country Club, Reseda, California, 1984 featuring the original lineup with Yngwie Malmsteen on guitar.


Re-issue as "Dangerous Games: Expanded Edition" by Cherry Red Records in 2016 with different bonus tracks:

12. Island In The Sun
13. It's My Life
14. Undercover
15. God Blessed Video
16. Double Man
17. Wire And Wood
18. Since You Been Gone
19. All Night Long

Unreleased live "audience" recording from Long Island, captured in November 1986 on the "Dangerous Games" tour.