Alcatrazz
Live Sentence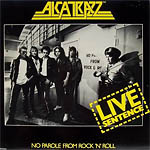 Tracks:

1. Too Young to Die, Too Drunk to Live
2. Hiroshima Mon Amour
3. Night Games
4. Island in the Sun
5. Kree Nakoorie
6. Coming Bach
7. Since You've Been Gone
8. Evil Eye
9. All Night Long

Line up:

Graham Bonnet - Vocals
Yngwie Malmsteen - Guitar
Gary Shea - Bass
Jan Uvena - Drums
Jimmy Waldo - Keyboards

Record Label / Year of Release:

Polydor 1984

Notes:

Live Sentence (1984) was the only live album released by Graham Bonnet's Alcatrazz and contains some of the songs performed by Bonnet in his time with Ritchie Blackmore's Rainbow. The live show was based on their previous album No Parole From Rock N' Roll and had the same line-up. According to Billboard, the album spent 16 weeks on the chart and peaked at #145.

Re-released in 2011 by The Store For Music with bonus tracks:

10. Big Foot
11. Suffer Me
12. Desert Song
13. Guitar Crash
14. Lost In Hollywood
15. Koujou No Tsuki
16. Somethin' Else

Re-Issue in 2016 by Cherry Red Records as 2 Disc Deluxe Edition CD/DVD

Includes DVD of the Live at Nakaano Sunplaze in Tokyo, Japan recorded January 28, 1984.