Alcatrazz
No Parole From Rock 'N' Roll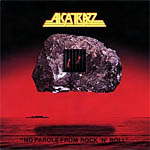 Tracks:

1. Island in the Sun
2. General Hospital
3. Jet to Jet
4. Hiroshima Mon Amour
5. Kree Nakoorie
6. Incubus
7. Too Young to Die, Too Drunk to Live
8. Big Foot
9. Starcarr Lane
10. Suffer Me

Line up:

Graham Bonnet - Vocals
Yngwie Malmsteen - Guitar
Gary Shea - Bass
Jan Uvena - Drums
Jimmy Waldo - Keyboards

Record Label / Year of Release:

Polydor 1983

Notes:

No Parole From Rock 'n' Roll (1983) was the first album released by Graham Bonnet's Alcatrazz. It spent seven weeks on the Billboard chart, peaking at #128. Considered by many to be the best Alcatrazz release and launched Yngwie J. Malmsteen into a glittering solo career. Most famous for the single "Island In the Sun" and "Jet To Jet".

Other notable offerings are "Hiroshima Mon Amour" for which a video was shot, "General Hospital" and "Incubus", a solo by Yngwie J. Malmsteen he continued to play during his solo career. It has always had a strong following in Japan and songs from which can still be found in Karaoke bars today.

Re-released in 2011 by The Store For Music with bonus tracks:

11. Kree Nakoorie
12. Starcarr Lane
13. Island in the Sun
14. Big Foot
15. Hiroshima Mon Amour
16. General Hospital
17. Incubus
18. Suffer Me
19. Too Young to Die, Too Drunk to Live
20. Jet to Jet

Bonus Tracks: Original Instrumental Demo Sessions

Re-issue by Cherry Red Records in 2015.