Michael Schenker Group
Assault Attack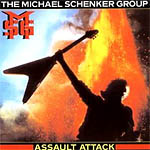 Tracks:

1. Assault Attack
2. Rock You to the Ground
3. Dancer
4. Samurai
5. Desert Song
6. Broken Promises
7. Searching for a Reason
8. Ulcer

Line up:

Michael Schenker - Guitars
Graham Bonnet - Vocals
Chris Glen - Bass
Ted McKenna - Drums

Additional musician:

Tommy Eyre - Keyboards

Record Label / Year of Release:

Chrysalis 1982

Notes:

Assault Attack is the third studio album from The Michael Schenker Group, and the only album to feature former Rainbow vocalist Graham Bonnet. The album was recorded in France at the Chateau d'Herouville and was produced by Martin Birch.

When Graham joined The Michael Schenker Group Cozy Powell was the drummer. Cozy was fired a few days later after having an argument with Michael Schenker.

Attracting mixed reviews on release, it is now looked on more favourably, and Schenker himself is considered by many to be on top form. More recent CD reissues contains the bonus track "Girl from Uptown," the b-side of "Dancer," the album's sole single.