Graham Bonnet
No Bad Habits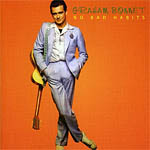 Tracks:

1. I'll Be Your Baby Tonight
2. Won't You Join Me
3. Is There A Way To Sing The Blues
4. Can't Complain
5. Givin' Up My Worryin'
6. Pyramid
7. Only You Can Lift Me
8. Stand Still Stella
9. High School Angel
10. Cold Lady

Line up:

Graham Bonnet - Vocals

Record Label / Year of Release:

Mercury 1978

Notes:

Second solo album by Graham Bonnet. Released in 1978.