Graham Bonnet
Graham Bonnet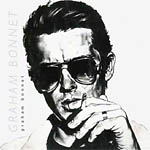 Tracks:

1. It's All Over Now, Baby Blue
2. Will You Love Me Tomorrow?
3. Tired Of Being Alone
4. Wino Song
5. It Ain't Easy
6. Goodnight And Goodmorning
7. Danny
8. Sunday 16
9. Rock Island Line
10. Soul Seeker

Line up:

Graham Bonnet - Vocals

Record Label / Year of Release:

Mercury 1977

Notes:

Originally released in 1977 on Ringo Starr's Ringo Records label. Grahams first self titled solo album features guest appearances from Micky Moody, Graham Preskett, Tony Hymas, Mike Giles, Stevie Lange & Pete Zorn and comprises a broad selection of covers including "Tired Of Being Alone", "Will You Still Love Me Tomorrow" and a cover of Bob Dylan's "It's All Over Baby Blue".