Paul Gallico's
The Snow Goose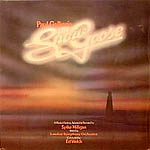 Tracks:

1. The Marshland Theme
2. Rhayader's Theme
3. Snow Goose Theme
4. Fritha's Theme
5. Walking By The Sea
6. The Lonely Man
7. Goose Conversations
8. Sailing

Line up:

Graham Bonnet - Vocals (on 5)

Record Label / Year of Release:

RCA 1976

Notes:

The Snow Goose: A Story of Dunkirk is a short novella by the American author Paul Gallico. It was first published in 1940 as a short story in The Saturday Evening Post, then he expanded it to create a short novella which was first published on April 7, 1941.

In 1975, the British progressive rock group Camel made an album based on Gallico's novel, initially entitled The Snow Goose. Gallico threatened to sue the band for copyright infringement and therefore the band had to rename the title to Music Inspired by The Snow Goose. In 1976 RCA released an LP with music written and orchestrated by Ed Welch and Spike Milligan. Contributions were made by Harry Edgington and Alan Clare. The LP was produced by Stuart Taylor and Ed Welch for Quarry Productions Ltd with artistic direction from Spike Milligan. Paul Gallico's original story was adapted for this recording by Spike Milligan in Australia 1976. The music is published by Clowns Music Ltd. Spike Milligan provided the narration throughout. Virginia, the widow of Paul Gallico, co-operated with others in this project. Copyright 1976 RCA Limited.