Three for All
Soundtrack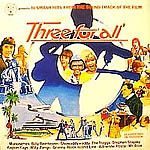 Tracks:

1. Three for All (Marionettes)
2. Don't Drink The Water (Billy Beethoven)
3. The Party (Rock 'n' Roll Party) (Showaddywaddy)
4. With A Girl Like You (The Troggs)
5. Driving in The Rain (Stephen Stapley)
6. Spanish Holidy (Hasta La Vista) (Marionettes)
7. Happy Machine (Kaplan Kaye)
8. Liza (Kaplan Kaye)
9. Dreams (Out In The Forest) (Billy Beethoven)
10. Untitled (Here Comes The Rain) (Billy Beethoven)
11. Hot Rod (Willy Zango)
12. Lady (Granny)
13. We're Free (Billy Beethoven)
14. Rock on Man (Rock Island Line)
15. Things Get Better (Adrienne Posta)
16. Groovin' with Mr. Bloe (Mr. Bloe)
17. Roadsweepers Rag (Instrumental)
18. Three for All (Reprise)(Marionettes)

Line up:

Graham Bonnet - Vocals (on 2, 9, 10 & 13)

Record Label / Year of Release:

DJM Records 1975

Notes:

Three for All is a 1975 British comedy film directed by Martin Campbell and starring Adrienne Posta, Robert Lindsay, Paul Nicholas, Edward Woodward, Richard Beckinsdale and John Le Mesurier. A British music group and their girlfriends go to Spain to make a record.

This film captures the hairstyles, fashions and the electric boogie glam and glitter rock of the early 70's. A British marketing executive uses an up-and-coming rock n roll group called, "Billy Beethoven" to promote tourism to Spain. He tells them, "You're gonna be the biggest name since Paul, Ringo and Fred."

Movie Soundtrack features tracks by Marionettes, Graham Bonnet (as Billy Beethoven), Showaddywaddy, The Troggs, Stephen Stapley, Kaplan Kaye, Willy Zango and more...

Graham Bonnet appeared in this 1975 British comedy film, Three for All as lead singer of 'Billy Beethoven', a fictional band, along with several notable UK comedy personalities and his then partner Adrienne Posta, although his character's lines were limited to only two words.