The Marbles
The Marbles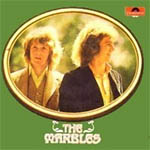 Tracks:

1. I Can't See Nobody
2. A House Is Not A Home
3. Storybook Children
4. Daytime
5. By The Light Of A Burning Candle
6. Stay With Me Baby
7. Only One Woman
8. To Love Somebody
9. Breaking Up Is Hard To Do
10. Elizabeth Johnson
11. Little Laughing Girl
12. The Walls Fell Down

Line up:

Graham Bonnet - Vocals
Trevor Gordon

Record Label / Year of Release:

Polydor 1970

Notes:

Graham Bonnet (born 23 December 1947) and Trevor Gordon (born Trevor Gordon Grunnill, 5 May 1948) are cousins. They were born in Skegness, Lincolnshire, England. While Bonnet stayed in England, Trevor Gordon grew up in Australia where he met The Bee Gees for the first time in 1964, and recorded four songs with them. In 1967 Bonnet founded a group called "The Blue Sect", and Trevor Gordon followed a request to join this band. In 1968 they became "The Marbles", and signed a recording contract with the Australian record label impressario, Robert Stigwood. They were befriended by Barry Gibb and Maurice Gibb who wrote six songs for them, and provided some background vocals.

The Marbles were typical one-hit wonders because "Only One Woman" became their one and only major hit. It reached Number 5 in the UK Singles Chart in November 1968. Their second single "The Walls Fell Down" only reached Number 28 in the same chart. But in Holland it was more successful, where it reached Number 3 in their Top 40 in April 1969.

By 1969 the Marbles had split. While Gordon retired from the music industry, Bonnet started a lengthy solo career. From April 1979 to September 1980 he was the lead singer with Ritchie Blackmore's Rainbow.