Rainbow
The Definitive Osaka 1978 Final Night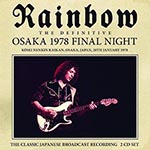 Tracks:

CD 1:

01. Over The Rainbow
02. Kill The King
03. Mistreated
04. 16th Century Greensleeves
05. Catch The Rainbow
06. Long Live Rock'n'Roll

CD 2:

01. Man On The Silver Mountain
02. Guitar Solo
03. Blues
04. Starstruck
05. Captain Cornflakes
06. Man On The Silver Mountai
07. Improvisations
08. Still I'm Sad

Line up:

Ritchie Blackmore – Guitar
Ronnie James Dio – Vocals
David Stone – Keyboards
Bob Daisley – Bass
Cozy Powell – Drums

Record Label / Year of Release:

Left Field Media 2021

Notes:

Excellent broadcast recording from Rainbow's Long Live Rock'n'Roll Tour, Released in April 1978, Long Live Rock n Roll is the third studio album by Rainbow, and was the last to feature Ronnie James Dio as lead singer. Recording of the album commenced in April 1977 at a studio in Château d'Hérouville, France, featuring Ritchie Blackmore, Ronnie James Dio and Cozy Powell. Keyboards were initially played on a session basis by former Rainbow member Tony Carey, while bass parts were started by Mark Clarke. Clarke was soon dismissed, however, and the bass parts were recorded by Blackmore himself.

By July 1977 seven tracks that ended up on the LP were in demo form. Recording was suspended while the band recruited Bob Daisley and David Stone and thereafter commenced extensive touring of Europe in the summer and fall of 1977. A return to the Château d'Hérouville studio in December saw the band finish the album and also yielded a final track, Gates of Babylon. Kill the King was already a staple part of the tour setlists, opening Rainbow concerts since mid-1976. It first appeared on the live album On Stage in 1977.

In the 1977-78 concerts the title track and Kill the King were the only songs performed, although L.A. Connection did get a few airings on the US tour before being dropped from the set. Rainbow finished their Rising tour on November 22nd, 1977 in Cardiff, but by January 11th, 1978 they were in Japan for the start of their Long Live Rock n Roll Tour. By now hugely popular in the country, Rainbow played 15 concerts there until early February.

Generally considered their finest gigs of the LLRR tour, are the two shows the band played at the Kosei Nenkin Kaikan in Osaka, and of these their second concert there was recorded for live FM broadcast. This extraordinary gig is now available for all to hear on this new 2CD set, which captures this entire event, sure to prove a delight for fans everywhere to now witness exactly what went down on this winter evening more than 40 years ago, in the land of the rising sun.