Rainbow
Tokyo 1980 - The Classic Japanese Broadcast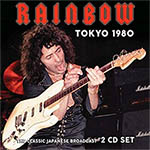 Tracks:

CD 1:

1. Pomp And Circumstance/Somewhere Over The Rainbow
2. Eyes Of The World
3. Love's No Friend
4. Since You Been Gone
5. Man On The Silver Mountain
6. Catch The Rainbow

CD 2:

1. Don Airey Solo #1
2. Lost In Hollywood
3. Band Jam/A Light In The Black/Ritchie Blackmore Solo #1
4. Difficult To Cure
5. Don Airey Solo #2
6. Cozy Powell Drum Solo
7. Lost In Hollywood Reprise/Ritchie Blackmore Solo #2
8. Lazy
9. All Night Long
10. Long Live Rock 'N' Roll
11. Kill The King/Guitar Clash
12. Long Live Rock 'N' Roll Reprise
13. Somewhere Over The Rainbow (Exit Music)

Line up:

Ritchie Blackmore – Guitar
Graham Bonnet – Vocals
Don Airey – Keyboards
Roger Glover – Bass
Cozy Powell – Drums

Record Label / Year of Release:

Unicorn 2020

Notes:

This 2 CD Set will be released by the Unicorn Label (UN2CD021) on April 3rd, 2020

Radio stations around the world have found a small merit selling the rights of their recordings often to small and unknown record labels. These releases are considered official discography as long as they are legally registered and the corresponding fees are paid to the musicians involved. Unfortunately these releases often sound like bootlegs and come with poor artwork.

Superb 2 CD Set Featuring Rainbow in Japan 1980. Following the 1978 departure of Ronnie James Dio as Rainbow's vocalist, Ritchie Blackmore firstly offered the role to Ian Gillan Blackmore's old Deep Purple colleague but when he was turned down the job went to former Marbles singer Graham Bonnet. Concurrently, Don Airey joined on keyboards and another former Purple man, Roger Glover, took over on bass while also producing and composing lyrics.

The band's first album with the new line up, Down To Earth, came out in July 1979 to rapturous praise from critics and fans alike. The record included the group's two biggest hit singles, Since You Been Gone and All Night Long. The Down To Earth Tour kicked off in summer 1979 and played across North America, Europe and the Far East where, on 9th May 1980, the group performed at the Budokan in Tokyo, putting on one of the tour s finest and best remembered shows. Recorded for local TV and FM Radio broadcast, this previously unreleased concert is now available on this 2CD set, 40 years after the legendary gig was performed.