Rainbow
Live On The Silver Mountain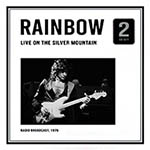 Tracks:

CD 1:

01. Monitor Check
02. Opening
03. Over The Rainbow
04. Start
05. Kill The King
06. Mistreated
07. Greensleeves
08. 16th Century Greensleeves
09. Prelude In C Major
10. Catch The Rainbow
11. Purple Haze
12. White Christmas
13. Lazy
14. Man On The Silver Mountain

CD 2:

01. Forty Miles of Bad Road
02. Tequila
03. Medley
04. Keyboard Solo
05. Stargazer
06. Still I'm Sad
07. Keyboard Solo
08. Drum Solo
09. 1812 Overture
10. Still I'm Sad
11. Over The Rainbow
12. Announcement

Line up:

Ritchie Blackmore – Guitar
Ronnie James Dio – Vocals
Tony Carey – Keyboards
Jimmy Bain – Bass
Cozy Powell – Drums

Record Label / Year of Release:

Laser Media 2020

Notes:

Laser Media will release this double compact disc set containing a full show from Osaka, Japan. Recorded live in concert for the Japanese radio station KWO-FM in 1976.

Radio stations around the world have found a small merit selling the rights of their recordings often to small and unknown record labels. These releases are considered official discography as long as they are legally registered and the corresponding fees are paid to the musicians involved. Unfortunately these releases often sound like bootlegs and come with poor artwork.

This album is titled "Live On The Silver Mountain" and will be out on January 24, 2020.
According to the setlist it will be the concert in Osaka on December 9th, 1976.