Blackmore's Night
Shadow of the Moon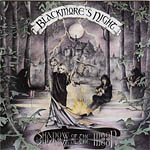 Tracks:

1. Shadow of the Moon
2. The Clock Ticks On
3. Be Mine Tonight
4. Play, Minstrel, Play
5. Ocean Gypsy
6. Minstrel Hall
7. Magical World
8. Writing on the Wall
9. Renaissance Faire
10. Memmingen
11. No Second Chance
12. Mond Tanz
13. Spirit of the Sea
14. Greensleeves
15. Wish You Were Here

Line up:

Ritchie Blackmore – Electric Guitars, Acoustic Guitars, Bass, Mandolin, Drum, Tambourine
Candice Night - Lead Vocals, Background Vocals
Pat Regan – Keyboards
Gerald Flashman – Recorders, Trumpet, French Horns
Tom Brown – Cello
Lady Green – Viola, Violins

Guest Appearances:

Ian Anderson – Flute on "Play, Minstrel, Play"
Scott Hazell – Vocals on "Play, Minstrel, Play"

Record Label / Year of Release:

Edel 1997

Notes:

When Night was working at a local New York rock music radio station, she was once a Rainbow fan and first encountered Blackmore to ask him for an autograph in 1989. The two started living together in 1991 and she discovered that he had a passionate interest in Renaissance music.

During the reformed Rainbow's recording the album Stranger in Us All in 1995, on which Night contributed some of the lyrics and backing harmony vocals, the duo were already gearing up their debut album. Night's personality and singing ability made her the natural choice as frontwoman. In 1997 the project started as being a pun of their own names, which would consist of themselves plus session musicians.

Their debut album Shadow of the Moon was a musical success and featured Ian Anderson of Jethro Tull on flute for the song "Play Minstrel Play". In subsequent albums, particularly Fires at Midnight, there was an increased incorporation of rock guitar into the music, whilst maintaining a folk rock direction. Over time, Night has increasingly participated instrumentally as well as singing the vocals, and is competent in a wide variety of Renaissance instruments.

Shadow of the Moon, released in 1997 on Edel Music, is the first album by musical group Blackmore's Night.

Re-issue in The U.K. by HTD in 1998 with bonus track "Possum's Last Dance".

Japanese Release on BMG with bonus track: "Minstrel Hall" (other version), In 2002 re-issue on Pony Canyon with extra bonus track "Possum's Last Dance".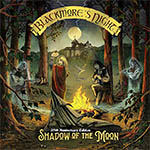 On March 10, 2023, the 25th Anniversary Edition of "Shadow Of The Moon" will be released worldwide. This edition has been remixed and remastered from the original multitrack tapes. It will come out in the usual multitude of formats, from CD+DVD digipak at € 19, to a € 105 super deluxe package that includes CD+DVD digipak, 2LP gatefold vinyl, 7" single, documentary DVD, replica of the Japanese tour book, replica of the tour poster, and replica of the 1997 tour t-shirt. The 2LP colour choices include black, clear, and yellow/black marble. The iconic original artwork has been refreshed and reworked to celebrate the anniversary.

Two previously unreleased acoustic tracks will be part of this reissue: "Spirit Of The Sea" and "Shadow Of The Moon", both recorded in a home recording session by Candice and Ritchie in 2022. All physical first editions will also come with an exclusive "Shadow Of The Moon" documentary on DVD included as a bonus.