Deep Purple
Turning To Crime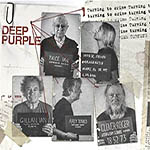 Tracks:

01. Volume 1
02. 7 And 7 Is
03. Rockin' Pneumonia And The Boogie Woogie Flu
04. Oh Well
05. Jenny Take A Ride!
06. Watching The River Flow
07. Let The Good Times Roll
08. Dixie Chicken
09. Shapes Of Things
10. The Battle Of New Orleans
11. Lucifer
12. White Room
13. Caught In The Act (Medley)
- Going Down
- Green Onions
- Hot 'Lanta
- Dazed And Confused
- Gimme Some Lovin'


Line up:

Ian Gillan - vocals
Steve Morse - guitar
Roger Glover - bass
Ian Paice - drums
Don Airey - keyboards

Record Label / Year of Release:

earMUSIC 2021

Notes:

Deep Purple's next studio effort will be an album of covers titled "Turning To Crime". Due on November 26 via earMUSIC, the LP will contain Deep Purple's versions of great rock classics and musical jewels — including songs originally recorded by Bob Dylan, Fleetwood Mac, Bob Dylan, Cream and The Yardbirds — carefully chosen by each member of the band.

The album will be available in the following formats:

- Digipak CD
- Jewel case CD
- Digital download
- Crystal clear vinyl 2LP
- Black vinyl 2LP
- Limited edition creamy white 2LP gatefold
- Limited edition 5×12" vinyl box set including DVD Locked Up: The Making Of Turning To Crime

The Limited edition 5×12" vinyl box set has also an exclusive bonus song "(I'm A) Roadrunner"