Stefan Berggren
These Are The Times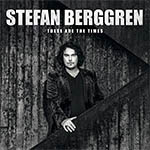 Tracks:

01 Wild Flowers
02 All Or Nothing
03 Burning Burning (The Last Band On Earth)
04 Little Angel
05 Superman
06 These Are the Times
07 Happy (Shine Your Love Light On Me)
08 Lost At Sea
09 New York
10 Blue Skies

Line up:

Stefan Berggren – Vocals, Backing Vocals, Guitars, Organ, Piano, Moog, Bass
Johannes Nordell – Drums, Backing Vocals
Tomas Thorberg – Bass, Backing Vocals

Special guests:

Don Airey – Organ & Moog (track 1)
Stephen Bentley Klein – String Arr. (tracks 8, 9)
Joakim Svalberg – Organ & Piano (tracks 4-7)

Record Label / Year of Release:

Grandjam Production 2021

Notes:

Stefan Berggren has worked as a singer with well-known bands and artists such as Uriah Heep, Snakes in Paradise, M3 – Classic Whitesnake, The Company of Snakes, Manfred Mann, Bernie Marsden, had bands together with the recently deceased Lee Kerslake, Berggren Kerslake Band "The Sun Has Gone Hazy ", as well as the Don Airey Band. Berggren has released a solo album before ("Stranger in a Strangeland", 2016).

Now he is ready to go out on the roads with his own, hand-picked band, Hopefully starting in the spring of 2021. The aforementioned Don Airey, the keyboard legend from Deep Purple, guest stars on his second solo album on the song "Wild Flowers".