Carl Sentance
Electric Eye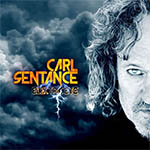 Tracks:

01 Judas
02 Alright
03 Electric Eye
04 Overload
05 Nervous Breakdown
06 Exile
07 Young Beggars
08 If This Is Heaven
09 Battlecry
10 California Queen

Line up:

Carl Sentance - vocals, guitar
Bob Richard - drums
Wayne Banks - bass
Don Airey - keyboards

Record Label / Year of Release:

Drakkar Entertainment 2021

Notes:

The 4th solo album by the Nazareth singer; Precise, catchy and powerful. Carl Sentance does not do things by halves with "Electric Eye". This timeless album goes without detours, directly into the ear! "Electric Eye" is the name of the new solo album by Carl Sentance (singer of Nazareth). One thing is immediately clear when listening to the songs: Carl Sentance does not do things by halves. Each song goes immediately into the ear. Every song invites to headbanging & singing along.

Songs like "Exile" or "Overload" are punchy, catchy and powerful. And they are above all one thing: timeless. All songs on the album have a distinct character of their own, which is just as convincing today as it will be tomorrow.