Restless Bones
Captured By The Roots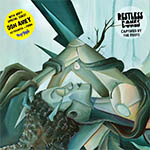 Tracks:

1. Bonewalk
2. Monster
3. Common Sense
4. Sail Away
5. Free Your Mind
6. U R The 1
7. Caught In The Roots
8. Thank You
9. Gonna Getcha
10. Gone

Line up:

Arno Pfeiler - guitar, lead vocals
Petar Oppel - bass, backing vocals
Sam Schlagenhaufen - drums, percussion, backing vocals

Special guest:

Don Airey - keyboards (track 4)

Record Label / Year of Release:

7Hard - ZYX Music 2021

Notes:

Austrian band Restless Bones release their second album Captured By The Roots, which includes nine original compositions, plus a cover of Sail Away with none other but Don Airey blessing it with a Hammond solo. The track will also be featured as a single.